About the event 
Join EU policymakers, NGOs, companies, voluntary sustainability standards, representatives from producing countries, EU Competent Authorities, the forest sector, and journalists to network, discover, debate and imagine together a world in which we know exactly where every piece of wood comes from. We will focus on how the EUDR and its geo-location requirement can play a role in the wood sector taking into account the environmental, economic, social dimension of the matter, both in Europe and globally.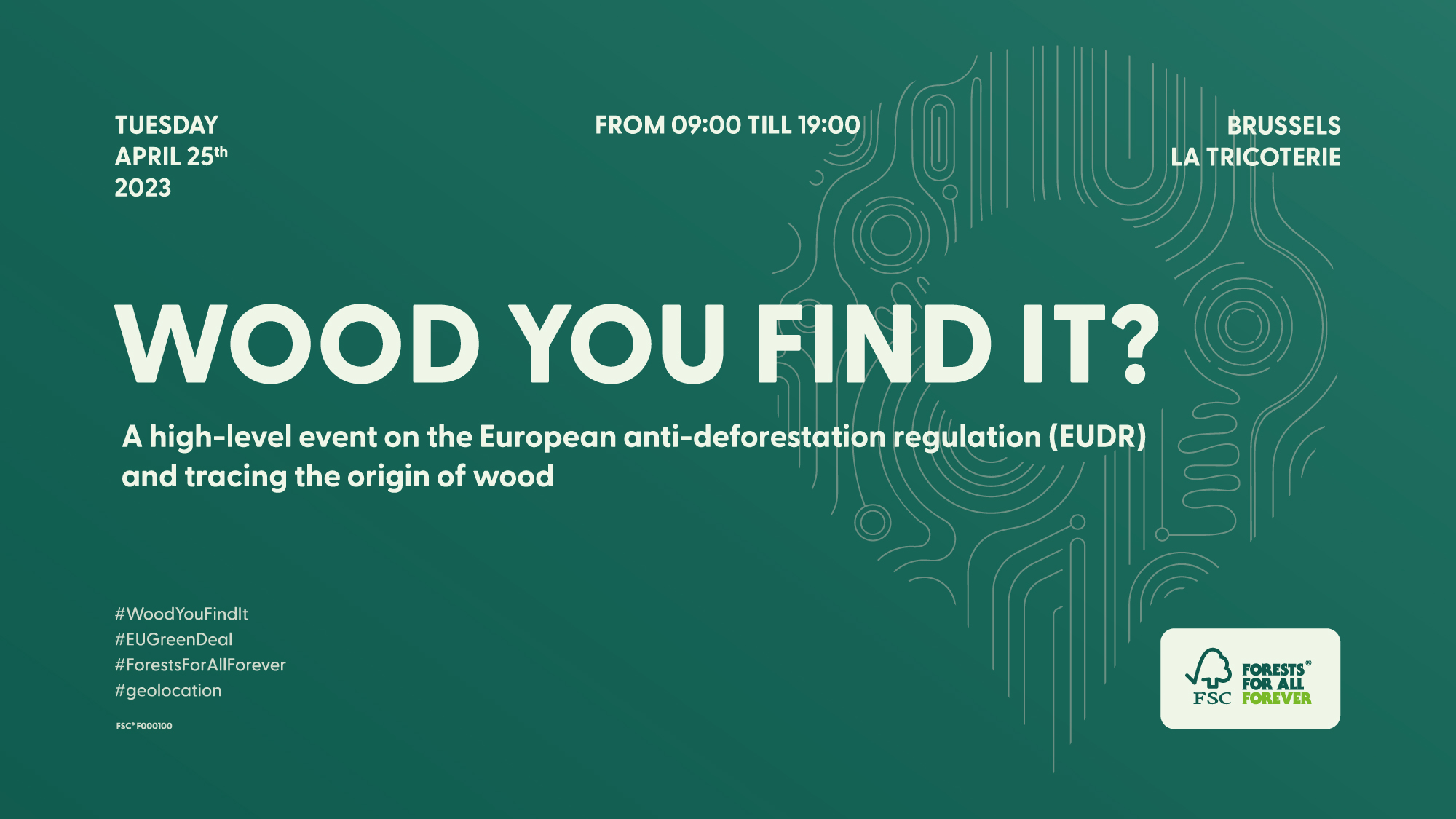 Register here by 7th April
Please note: This is a free of charge, in-person and in English only event with limited placement. Only registered participants will be accepted. After registering, attendees should receive a confirmation email by 31st March 2023. Attendance to this event is not complete until after receiving confirmation from FSC. Participants are responsible for travels expenses.
Official hashtags: #WoodYouFindIt #EUGreenDeal #ForestsForAllForever #Geolocation
Draft Agenda
08:30 – 09:30: Registration, Coffee & networking
09:30 – 09:45: Welcome and presentation of the agenda: Mariam Zaidi, Moderator & FSC representatives
Part 1: Setting the Scene: the EUDR and its geo-location requirement
09:45 – 10:00: Keynote "Why the geo-location requirement in the EUDR?" (Ms Astrid Ladefoged, Head of Unit F1, Planetary Common Goods, Universal Values & Environmental Security, EU Commission, DG ENV)
10:00 – 10:15: "Wood products under the EUDR: global trading flow to the EU member states" (Ms Joana Faggin, Senior consultant on deforestation-free supply chains, AidEnvironment)
10:15 – 10:30: "FSC: tackling deforestation through new tools and solutions" (Mr Michael Marus, Chief Information Officer and Director of IT, FSC)
10:30 – 11:00: Q&A
11:00 – 11:10: Energy break
Part 2: Geo-location: challenges and opportunities – perspective from different stakeholders
11:10 – 12.40: Panel discussion "Geo-location, perspectives on how to make it happen so that it adds value along the whole value chain"
Ms Jade Saunders, Acting Executive Director, World Forest ID
Ms Joanna Nowakowska, System Performance Director, FSC
Ms Anke Schulmeister-Oldenhove, Senior Forest Policy Officer, WWF EPO
Ms Annie Adams, Independent Senior Advisor, Kingfisher 
Ms Irene Benito Rodríguez, Senior Manager - EU Affairs, Planet
12:40 – 13:15: Q&A
13:15 – 14:30: Lunch and networking
Part 3: Understanding and imagining how to approach geo-location
14:30 – 15:30: "Interactive Session on geo-location" (Mr Oliver Cupit, Sustainable Business & Finance Programme Manager, ZSL)
15:30 – 16:00: Audience feedback and Q&A 
16:00 – 16:15: Coffee break
Part 4: The global perspective
16:15 – 17:30: Panel discussion: "Ensuring that forest stewards benefit from the EUDR and geo-location to reduce pressure on forests". Panel Statements and then Q&A"
Ms Alexandra Benjamin, Forest Governance Campaigner, FERN
Ms Chantal Marijnissen, Deputy Director General Environment, Sustainable Natural Resources, EU Commission, DG INTPA
Mr Gert van der Bijl, Senior EU Policy Advisor, Solidaridad
Mr Escipion Joaquin Oliveira Gomez, Assistant Secretary General, Sustainable Economic Transformation and Trade, Organisation of African, Caribbean and Pacific States (OACPS)
17:30 – 17:45: Closing remarks (Mr Kim Carstensen, Director General, FSC)
17:45 – 19:00: Drinks and networking
Watch the recordings of "The EUDR & FSC" webinar
The webinar, which took place on 23 March 2023, sheds light on the EU anti-deforestation (EUDR) and its main requirements, the role private certification schemes can play in it, how the industry and competent authorities are getting ready for the EUDR implementation, and how FSC, with its +10 experience on the EUTR, can provide the foundation to build compliance with the Regulation whilst being an effective tool to fight deforestation and degradation. 
Speakers include representatives from: EU Commission, Preferred by Nature, CEPI, Danish Environmental Protection Agency, and FSC.