How to Search
Either:
- Type in the text box what you are searching for (it can be any part of the License Code, Certificate Code or, Local Name or Organization Name – you do not need to enter the full text),
- or Clear the text using the eraser button just to the right
Select additional filters as per your needs.
List of results appears.
Right click (on a computer) or press and hold (on a smartphone) to bring up the menu and select Drill through > Certificate Detail to get full details on individual certificates.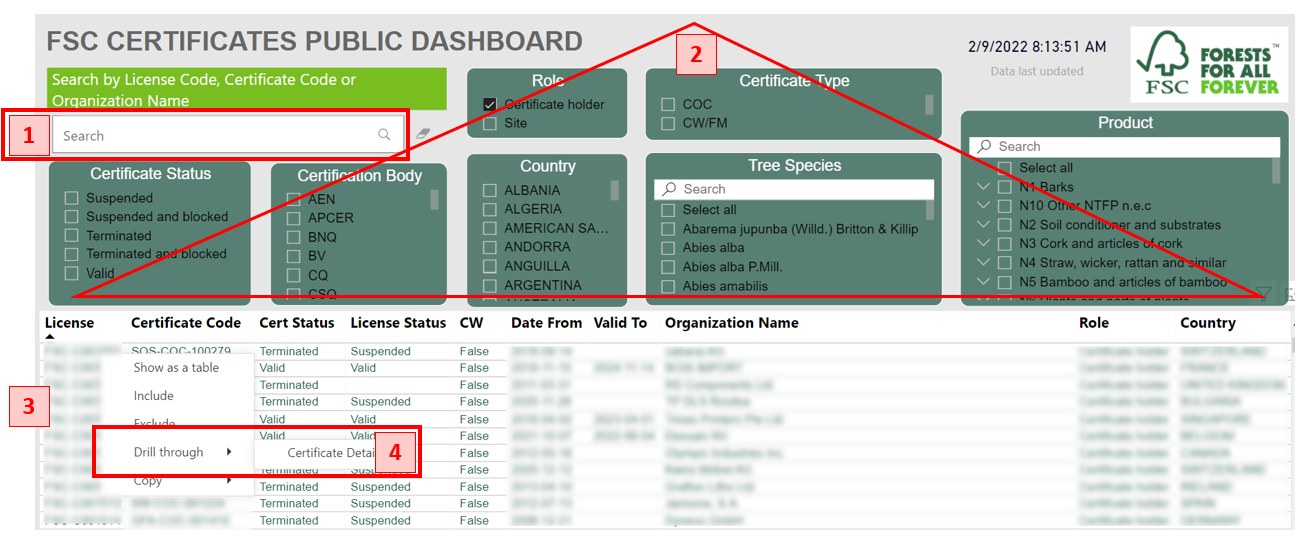 Viewing Long Lists of Data
The Certificate Detail page can display lists of products and lists of Group Members. To view the full list without limited in-page scrolling, you can try "Focus mode" to zoom in and expand a list to see more detail. Focus mode can be used by selecting the Focus mode icon located at the top, right-hand corner of the list.

Printing Certificate Details
We have gathered feedback from stakeholders regarding the ability to print certificate details, and we are sharing the following Web browser extensions that may help with printing certificate details.
Installation of browser extensions is at the risk of users, e.g. as explained here. These extensions are not provided by FSC, and FSC does not guarantee their security. Users should make their own decisions about their comfort level in installing and using such browser extensions.
FSC Statement on Information Security Incident from 8 February 2022